To Get Your Tickets
Once you have booked your tickets online you will receive an email from our bookings email address.
If you have not received this please check your JUNK or SPAM mailbox folder.
This email will contain the booking reference number and your login details to obtain your tickets.
If you have not booked your tickets yet please BOOK HERE
Check your Email
This will have your login password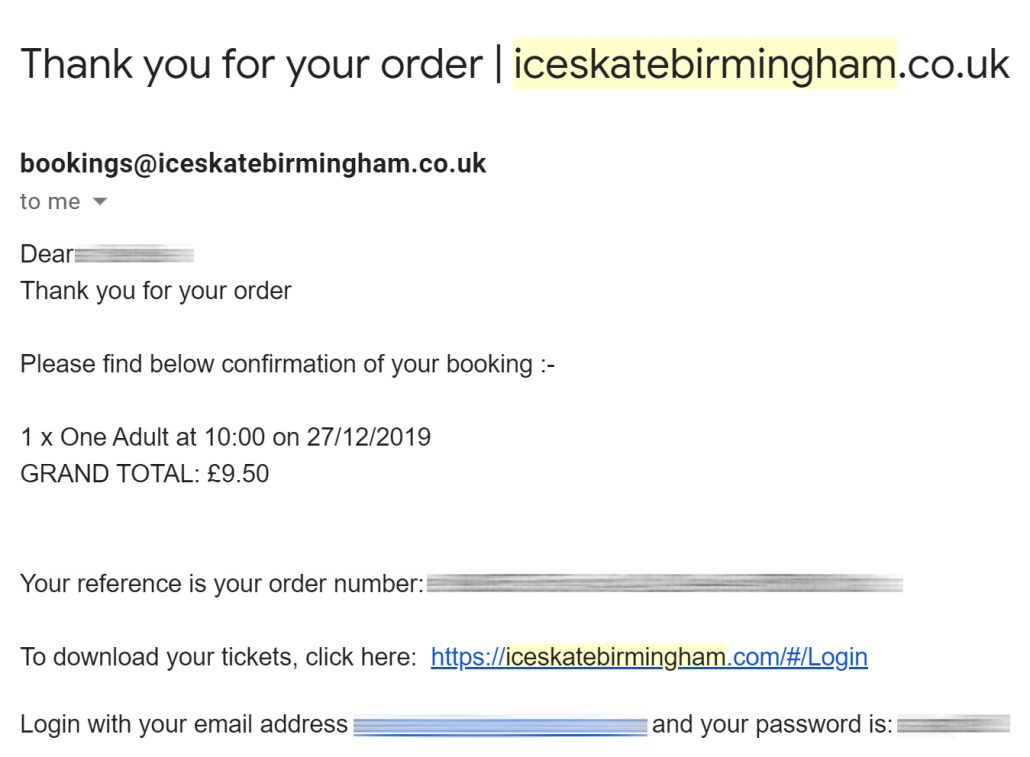 To Download Your Tickets
You can download your tickets, click here:  https://iceskatebirmingham.com/#/Login
Login with your email address "your-booking-email-address" and your password which is contained in the email you received when booking.
Not Recieved Emails?
If you have not received your tickets confirmation email DO NOT panic, simply go to the BOX OFFICE and provide booking details (Booking Date, Name, Card Used To Make Payment) and we can supply your tickets.
The most common mistake we find is due to a mistake being made when you have entered the email address whilst booking.

We apologise, for some technical reason, Hotmail, SKY and AOL are sometimes blocking emails we send. If you use these email services DO NOT panic simply go to the BOX Office. We are in contact with them to resolve this issue at the moment.
If You Need to Reset Your Password
If need to RESET your Password
If You Didn't Receive The Confirmation Email – Do Not Panic
Once you book your tickets you should receive a booking confirmation email. We are aware that our customers who use certain email vendors have not all received the booking confirmation emails.
We apologise about this and wish we could resolve this issue, however this is something at that we have no control over and we are in talks with service providers to fix this.
If you find yourself in this situation simply go to the BOX Office to collect your tickets.
We suggest you check your junk mailbox folder and if you have still not received the email do not panic. Click here and enter the email address that used when making your booking. This will send you a new password that you can then use to obtain your tickets here.
If you have used a hotmail email address, at the moment they are blocking our emails. We are working with them to unblock this issue. If you have purchased tickets do not panic. The password reset system will allow you to get your tickets as soon as this issue is fixed.
Don't Have a Password?
To reset your password or if you do not know your password enter your booking email address.
Still Having Problems?
If you are having problems with anything please do not panic. The booking office reception at Ice Skate Birmingham can look up your name and find the booking information and print a tickets for you if required.
If you are having issues please ensure you allow time to sort this out arriving 1 hour before your session time.
Don't miss out, book your tickets today!
Book with confidence using our secure and easy booking system